Updates For Jan-Mar 2001

28 March 2001 (Update #2)... Just talked to the folks at the factory Monday and learned the delivery date has been moved up to 5 April. Yikes! With the time we spent waiting in the queue for our turn to get a boat you'd think we'd be 110% ready, but that's not how it works. I think it's Brook's Law that says "the first 90% of the work takes the first 90% of the schedule; the remaining 10% of the work takes the other 90% of the schedule". We're now into "the other 90% of the schedule"!
So we're scrambling around making our last minute requests for prescriptions, arranging for a berth at a place we've never seen before, getting insurance for the boat, maps to find our way to the builder's facility, picking clothes to take for everything from a cold spring to a hot summer, etc. We may not know what we're doing, but we're doing it with confidence!
Getting the equipment for the boat turned out to be the easy part. I had a good idea what we should have and could get the orders sent off quickly. All we needed was $$$ and when we ran out, we were all done. Pretty easy! Did most of the buying from Boat Builders and Sailors south of us in Newport Beach, CA. Ed Quesada was an immense help to us.
Celia's been trying to make sense of what we need to take with us to live on the boat: cooking, sleeping, heating/cooling, storage, financial records, etc. She's trying to utilize some of the things I still had from almost 30 years of living aboard earlier boats then buy the rest. I think my estimate of what would still be useable was perhaps a little optimistic! :-) She's been making lists, making lists of lists and then making lists of the lists of lists! And that's only a slight exaggeration!
But things seem to be coming together. We're grinding our way through the quagmire and will be grateful to load the truck this Saturday morning, 3/31, and head east across the Bay Bridge. Btw, we got a "TripTik" from AAA that in our case is a pair of booklets containing small maps covering the adjoining pieces of the specific route we'll take to get to Annapolis, MD. Pretty cool stuff with points of interest, motels, food stops, etc. I'd heard of these but this is my first experience using them.
The trip east will take us through Oklahoma City, OK and Springfield, MO, a couple stops to visit friends and family of Celia. In OK we'll visit Dana and Anne-Marie Chivers before Dana leaves for a tour in Bosnia with the Army. I thought we were pretty much done with that, but that's not the case! Celia's little brother, Steve Illum, and his wife Eileen live in Springfield, MO, so we'll get a chance for a visit with them. Besides being a chance for me to meet these people, both stops are conveniently placed to break up the trip in about the middle which will give us a needed rest.
At the moment, the garage looks like a warehouse. We bought lightweight plastic crates to use for hauling all this stuff with the thought that we could later use them to store food, spares, etc. Not sure how that's going to work in the long run, but it's a place to start. We have always planned to use the starboard (right side) aft cabin for storage, but lately I've been eyeing the port (left side) aft cabin as well for temporary storage when we don't have guests aboard. Looks like we have too much 'stuff'!
Along that line, we've been weighing everything we're going to take with us. I wasn't able to get a payload figure from the builder ("just don't get it below its lines!"), but I'd read somewhere that 1,500 pounds was about it. So far we're about 600# over and we haven't included our clothes or our own weight! Payload weight (all the things we bring aboard including fuel, water and the crew) is far more of an issue for a multihull than it is for a monohull since it affects performance and can even be a safety issue. Looks like we need to shed a few pounds by Saturday! :-)
In case you missed it, here's a link to the Performance Cruising Inc. site. These are the people, Tony & Sue Smith, that are building our boat.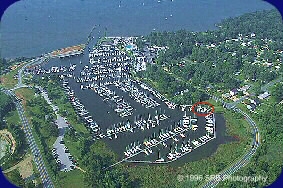 Also, here's a link to Herrington Harbour South, the place where we'll keep the boat for awhile before we head south to Florida & the Bahamas. I attached a marked-up photo of where I think our berth will be... a barely discernible red circle in the right-center.
Which reminds me... heard from Rick the Mouseherder today. He's the guy doing the vinyl graphic of the boat name (GOOSEBUMPS). He's about to cut the material and the name ought to go on the boat next week. Here's the link to the proofs Rick did for us. A little computer magic on Rick's part to give us an idea how it will look on the boat. [ Note: Rick is cruising in Puerto Rico for a couple years and is hopefully enjoying the good life! The images are gone now. ]
We are still struggling to get a handle on health insurance while traveling out of the country. I figured with the mobile society we have today it shouldn't be any big deal but that's not the case. We both have HMOs which are great as long as you stay in one spot. "Travel" is not in the HMO vocabulary! Emergencies are covered, but routine things aren't. We have a few months before this becomes a big deal, but it has to be resolved by the time we leave for Florida & the Bahamas.
The high point of last week was signing up for social security retirement benefits. Took about 45 minutes, the representative was very helpful and pleasant; nothing at all like I'd been lead to believe. Should get my first check in about 3 weeks. Pretty cool. Now I'm officially an old toot! :-)
For those that might be interested in this sort of thing, I'll include something next time about the electronics & software we'll use for navigation. Things have improved immensely since the last time I looked at electronics! And what's coming for e-Mail afloat is pure magic!
Take care all. I'll get some more off once we get on the road.