Updates for Jul - Sep 2003

5 July 2003 (Update #50)... Hello from San Francisco!
I can't believe that I could possibly have forgotten how bloody cold it is in this town. Anyone who works here ought to receive hazardous duty pay! I guess I have to retract all my whining about the heat and humidity in the Keys... mea culpa.
Thanks to the house watchers all was in good shape. And the mechanic a few doors down got my old Camry running again after it sat for over a year (thanks Lincoln!). So now we have 2 cars which doubles the parking problem in an area that was built when cars were much smaller than they are now. We can't find a place to park our truck where it'll fit between driveways and it's too big to fit in the garage. Aaarrgh!

29 September 2003 (Update #51)... Hello from Key West!
Lots to catch up on, but unfortunately it doesn't have much to do directly with sailing. Indirectly it has everything to do with sailing cuz until we finish our chores, the crew can't go out and play!
We mentioned that we had to rush back to San Francisco from Yellowstone. We had received a call from Celia's mother's doctor saying she was back in the hospital with a number of serious problems. So we left immediately, not really thinking anything would come of it. Her mother had been down this road before and always bounced back. It was so predictable we called her the Energizer Bunny... she just kept going and going and going. But we took the situation seriously just in case. About half way across the Nevada desert we got a second call that this time she didn't make it. This turn of events shifted our purpose in being in the Bay Area and cast a somber note on the early part of our visit. After talking things over with Celia's aunt Irene (she's 95 and still going strong), her uncle Bob and a few others, we were able to put plans in place for a private service.
As anyone can guess that's had to deal with the death of a parent, this is where the work began. Even with all the preplanning that had been done, there were still a lot of things to do. And a number of discoveries as well. Like the worthless certificates for all the Limited Partnerships that turned out to be not completely worthless. Or the close inspection of her mom's house in Pinole that showed it to be suitable for not much more than demolition. All of this took much more time than either of us anticipated, delayed in large part because we needed input from the lawyer who was out of town for several weeks. Eventually we got the info we needed, paper work was either finished or underway, the Pinole house was sold and we could start thinking about selling Celia's house in San Francisco.
We had planned for some time to sell the San Francisco house. We want to buy something else right away so the real estate market doesn't get away from us while we continue to play boats. We also decided we couldn't know what of our remaining possessions to keep (we have a lot to throw out) until we know what space we'll have to keep them in. So we chose to drive back toward Key West and finish looking at possible places for a home base, determined to make a decision on one of the places we liked. It wasn't a serious consideration, but we wanted to make a pass through the southwest and check out Sedona, AZ and Santa Fe, NM.
Hurricane Isabel entered the picture about this point. My favorite place for home base was Oriental, NC with several other near choices in NC and FL. As we looked things over in Sedona and later in Santa Fe, the impact area of Isabel became better defined and the reality of a home base in a hurricane path took on a whole new meaning. As we were checking prices on houses in Santa Fe, friends in Annapolis and Rose Haven, MD were making preparations for their boats. Fran, Char and Maggie the goddamn cat were going to head for WV while Ric decided to stay put in the protection offered by Herrington Harbour South marina.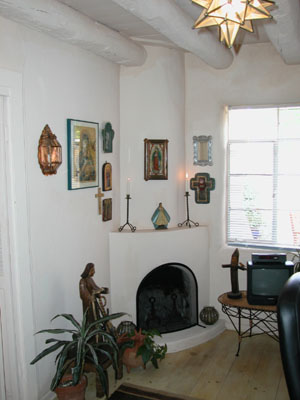 It was probably about this time we decided we shouldn't place ourselves in harms way by buying property in coastal southeastern US. As Ric pointed out to us, Santa Fe has probably not had a hurricane in over 18,000,000 years, so on that positive note we made an offer on an old adobe house in the South Capital area, about 10 blocks from the Plaza and (I think) 7 from the state capitol. It's a great place, just the right size for us and carefully restored (the oldest part of the house was built before 1885) and upgraded over the last 20 years by the current owners Ed and Mimi. It's a beautiful and comfortable piece of historic Santa Fe. The photo with the kiva fireplace is the study or small front bedroom. The freestanding stove is in the den. [ We have some photos of the outside that will find there way here soon. ].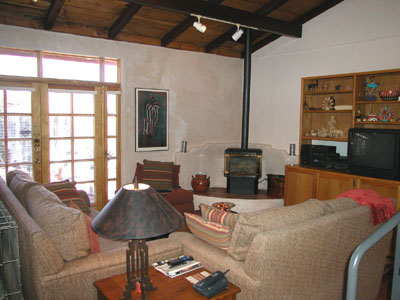 With that long standing uncertainty of where to call home base finally put to rest, we returned to San Francisco to leave the truck, fly to Key West to see doctors and pay attention to the boat for a bit. Then we'll head head back to SF for a little game of dump-and-pack.
Once we're packed we'll race the movers to Santa Fe so we can get settled. We expect to be in Santa Fe through Christmas, then head for Key West for the winter cruising season.
At the moment we're in Key West, still rushing a little to get things finished in time to catch our flight to SF next week. To complicate things a little, we found the leak around the hatch (we think... with leaks you can get a surprise!) in the forward stateroom has gotten worse and needs attention. Hopefully all it needs is to be re-bedded. What's more, friends Michael & Layne, who have been watching our boat in our absence, suddenly have a problem with their Gemini steering cables (the old Teleflex cable froze after 7 years) and Michael could use a hand getting things back together. Plus our engine hasn't been run for awhile, so that's on the list too. And the water in the tanks smells like something really nasty has taken over, so that needs a little attention before the Admiral convenes a court martial the Captain for flagrant dereliction of duties! You can go play as long as you want, but sadly the maintenance doesn't wait for you to get back before it comes due.